So, you are here reading about tattoos because you just saw somebody with a gorgeous wrist tattoo. Or you had always wanted to get a tattoo but somehow couldn't find the courage to do so and now you don't want to put it off any longer. Or maybe you already have a tattoo and now want to get another one!
Whatever your reasons, we have some cool wrist tattoos for women that you are going to love!
Why Wrist Tattoos?
It's a legit question!
Of all the body parts, why choose the wrist for having a tattoo?
The reasons are simple!
It is one of the most visible parts of your body.  And when you go through so much pain of inking the tattoo, why not flaunt it!
How to Choose a Wrist Tattoo that is Perfect For You?
With countless designs for tattoos, how are you going to choose just one that you identify with?
You might already have chosen a tattoo that you like but if you haven't then we are here to help you pick one!
We suggest that you do some research on the popular wrist tattoos for women and the meaning they carry to make your selection easier.
Wrist Arm Tattoos for Women – Some Tips to Get it Right
You would agree that every tattoo has a hidden meaning. Therefore, choose a tattoo that is meaningful for you in some way because once you get it inked, you will be stuck with it for life!
Here is a word of caution if you are a young woman and insistent on getting your boyfriend's name tattooed on your wrist. Many partnerships don't last long so decide on a tattoo wisely!
Whether you are choosing a symbol or a phrase in a foreign language, make sure that the spelling is correct. In addition, double-check its meaning.
A Few Gorgeous Wrist Tattoos Ideas for Women

We have painstakingly shortlisted some wrist tattoo ideas that you will love as a woman. Choose a style that goes with your personality and lifestyle.
Here are some fine wrist tattoos designs for women: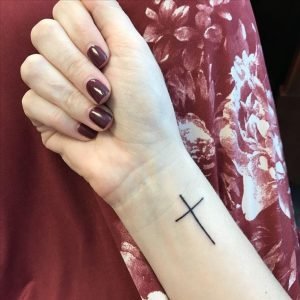 Don't be fooled by the word "small"!
This category is huge!
Small wrist tattoos for women are the best option when you want to put a tattoo subtly on show. You can choose anything from a cross, star, bird, word, a symbol you name it!
A Cross: Wrist Cross tattoos for women can be styled in so many glamorous ways. If you are a religious person or you have some other emotional attachment then do think about a Cross. There is a lot of inspiration available online on Cross tattoos for women wrists. 
A Star: If a cross is not your thing, then go for a star tattoo. We have come across star wrist tattoos for women and they are quite a trend. A single star located on your wrist is going to draw a lot of attention. You can also opt for three or five stars put randomly on your wrist for a more customized look.
Bracelet-style tattoos go all around the wrist like you are wearing a bracelet!
What a cute idea for a feminine wrist tattoo!
To be honest, there are so many beautiful bracelet tattoos and it was quite difficult for us to pick one over the other. Nevertheless, we got two styles to share with you ladies:
A Rope: This tattoo looks as if you have tied a rope around your wrist. How incredible!
A Charm Bracelet: If you are thinking about a colored bracelet tattoo around your wrist then a chain of beads with hanging charms is a great option. And what more, it looks like a real bracelet!
Other Unique Wrist Tattoos for Women  
There are so many wrist tattoo styles that we couldn't include in this article so forgive us if we have left out any of your personal favorites!
It is worth mentioning that tribal tattoos for women on wrist not only look unique but also pay tribute to their particular heritage.  Do consider getting a tribal tattoo to honor your ancestry.
Two other unique tattoo styles are as follows:
A Barcode: A barcode look-alike tattoo showing some vertical bars with a special date as bar number makes a unique and cool tattoo. 
A Zodiac Sign: You can get your zodiac sign with your birth date for a personalized and inimitable wrist tattoo.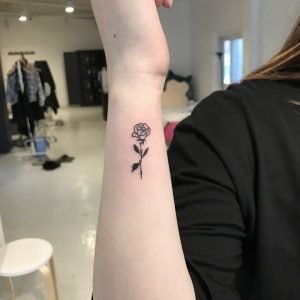 Another popular style for wrist tattoo is the side wrist tattoo. This tattoo is inked straight below the small finger on one side of the wrist. Although there are so many designs for this particular style, our favorite is a small heart etched on the side wrist.
A Single Word: A beautifully calligraphic word written on the side of the wrist longitudinally also looks very classy.
A Rose Stalk: In addition, we have also seen a rose with a stalk on the wrist side that was looking gorgeous!
Sorry to be persistent but Cross tattoos for women on the wrist side are something we have to suggest again here!

Wrist Tattoos for Women – Our Perspective
Tattoos are a great way to add a unique touch to your personality. Particularly, wrist tattoos are a popular choice among females because of their versatility and visibility factor. You can get a single small tattoo as well as a big motif or even a tattoo that goes all around your wrist.
So many choices can make you a little overwhelmed but don't worry and choose something timeless. Consider the style that you feel comfortable with and fulfill your dream of getting that beautiful wrist tattoo!