Nowadays, cell phones have become the basic necessity of life after food, clothing, and shelter. To fulfill this necessity, a number of brands are introducing new cell phone models every other day. Almost every famous mobile phone company has introduced a waterproof phone by now. The latest in the series is the Samsung Galaxy S20 Ultra, which is also the largest cell phone of 2022.
Since it makes a brand appear premium, every mobile company is introducing the waterproof feature in their cell phones. However, a water-resistant phone does not come with a cheap price-tag. Moreover, there are always rumors that no phone is 100% water-resistant. Therefore, most people become reluctant to buy a phone that may cost more than a kidney.
In this article, we have shared our top picks of waterproof phones for 2021. The cell phones on this list are guaranteed to be extremely water-resistant.
Top Waterproof Phone Companies
The following companies have developed some of the most popular and extremely water-resistant phones:
Samsung

Apple

Huawei

LG

Sony

OnePlus
Let's discuss their features in detail.
Samsung has been among the pioneers of developing waterproof phones. It has been introducing some of the best water-resistant models since 2014. Except for the Galaxy S6 series in 2015, Samsung has been producing water-resistant cell phones for quite a while.
Its latest waterproof phone is the Samsung Galaxy S20 series. There are three impressive cell phones in this series with unique specifications. We have mentioned all their specs below taken from the official website: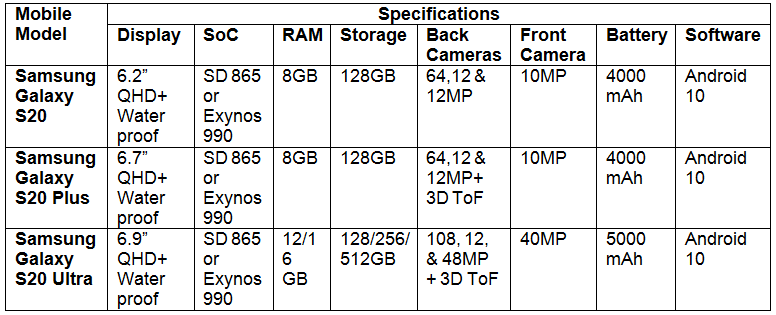 Besides the Samsung Galaxy S20 series, the other remarkable series is the Galaxy Note 20 series. It is also a water-resistant series with a number of the latest features. However, it may be expensive than other options.
The specifications of the Samsung Galaxy Note 20 series are given below:
Android-powered devices have been ruling the cell phone industry for a long time. However, Apple with its iOS software and waterproof phones hasn't been behind. The latest iPhone 12 series comes with the most advanced features and big screens.
The specifications of the iPhone 12 series are given below
Although Huawei has started becoming popular recently, it has made some impressive gadgets. The Huawei P series has been a hit among the masses due to its extraordinary features. It is also considered a top-quality waterproof phone.
Some other features of Huawei P40 Pro and Pro Plus are mentioned below:

LG began its journey of waterproof phones in 2017. However, LG released the V60 ThinQ in 2020, and it has become a massive success due to a number of features. It offers IP68 support as well as MIL-STD 810G design for better durability. Other notable features of the said device are mentioned below:

Sony has been among the big league of Smartphone manufacturers for a long time. Therefore, it has also been releasing different waterproof phones, with the latest being Xperia 1 II.
It has the following features:
OnePlus recently introduced the water-resistance feature in its Smartphones in 2020. The OnePlus 8 and 8 Pro have been the first waterproof cell phones from this company.
These phones have many advanced features, including:
The Bottom Line
In this article, we have shared our top picks of water-resistant smartphones for 2021. So, choose the best waterproof phone that fulfills your requirement from our list and grab it as soon as possible.