Marilyn Monroe said, "Give a girl the right shoes, and she can conquer the world." And what other shoe is right for a girl than a high heel? However, in order to wear the right heels, it is essential to know your heels. People who work in fashion departments or love wearing pretty shoes like to talk in the lingo, too. Therefore, knowing about a different type of high heels is a useful skill.
26 Type of High Heels
In this article, we have shared the ultimate guide to high-heeled shoes from vintage to contemporary styles. So, let's understand different type of high heels before we run out to conquer the world.
1. Kitten Heels
Want comfort with class? Go for kitten heels. These tapered heels of 1-2 inches are a delicate mix of fashion and comfort. They are ideal for parties where you have to do a lot of walking. Since they are not that high, they allow you to walk about comfortably without compromising on class.
2. Pumps
Pumps are more commonly known as high heels. These types of high heels are usually 2-3 inches long and wider than pencil heels. Moreover, they have a low-cut front. These high heels are perfect for most occasions, including casual, formal, and semi-formal.
3. Stilettos
The goddess of all the heels – a stiletto can be as high as 8 inches. Since the height is more than any other high-heeled shoe, they are usually platforms, too. Although stilettos have been labeled problematic for regular walking, it is a worthy skill. Moreover, all the fashionistas and supermodels are known for their red-bottom heels.
4. Ankle Strap Heels
A new type of high heels is the ankle strap heel. It combines class with comfort by adding a strap at the ankle. The strap makes it easier to wear a higher heel; therefore, usually, ankle strap heels have higher heels like stilettos. These heels are a universal favorite because they make wearing high heels more secure and comfortable.
5. Wedge Pumps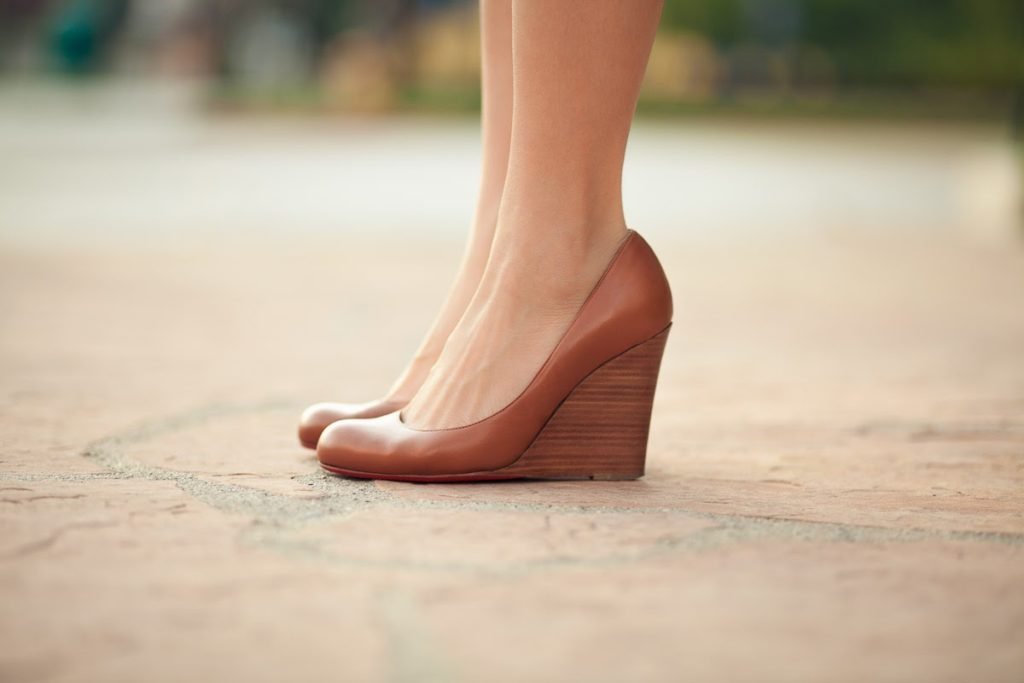 Resembling their name, wedge pumps have a wedge-like, triangular-shaped heel. These heels are one of the most comfortable ones to walk in. Moreover, the heel is attached to the sole, and there is no separation.
6. Wedge Sandals
Like a wedge pump, the wedge sandal also has a wedge-like heel. However, these wedges have a more open and sandal-like upper and usually have a buckle on the top.
7. Cone Heels
As the name suggests, cone heels look like an ice-cream cone. These heels are wider at the sole and become narrower at the base. Since the sole is wider at the base, they are comfortable to walk in and look classy.
8. Sling Back Heels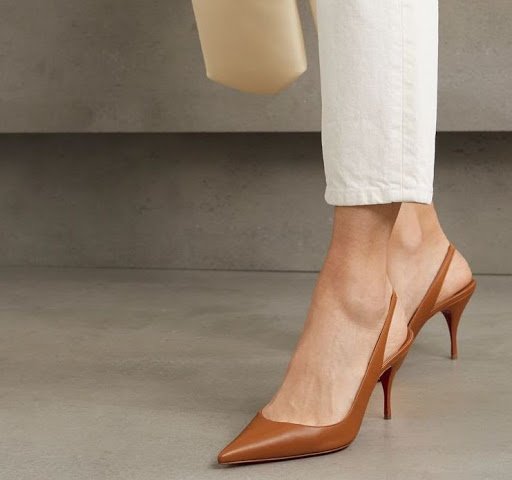 A modern rendition of ankle strap heels is the slingback heel. However, instead of having a strap around the ankle, the strap goes around the back of the Achilles heel. Due to this structure, these heels appear more elegant and classy. Moreover, they make the heels more stable and secure.
9. Platform Heels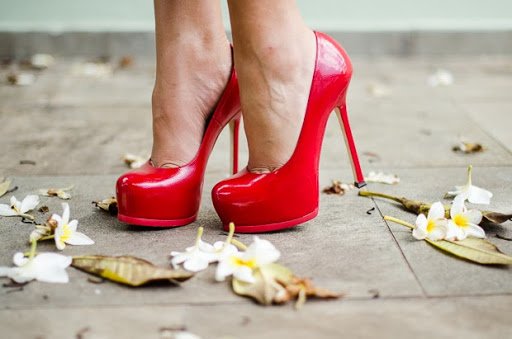 This type of high heels shoes is one of the most common styles. Platform heels usually have a high heel but what makes them different from pumps or stilettos is the thicker part under the sole. Due to a thicker sole at the front, the height difference between the front and back becomes balanced. As a result, it becomes easier to walk in these heels.
10. High Heel Sandals
High heel sandals usually have varying heel heights. These sandals can have any type of heel, including stiletto, kitten, and pencil. However, these heels have a sandal strap at the top or around the ankle.
11. Peep Toe Heels
Peep-toe heels have all sorts of shapes and sizes. They can be high, low, chunky, wedged, etc. Such shoes look extremely sensual with colorful nail paint on toes. Think golden peep toe high heels with blood-red nail paint!
12. Cork High Heels
Cork heels are made up of cork material, and they can be found in any style or height. The cork material is softer, due to which the heel is more cushioned and comfortable.
13. High Heeled Boots
Winter times and high-heeled boots go hand in hand (or foot in foot, maybe?). These gorgeous shoes pair well with a skirt, dress, or jeans. Moreover, they not only look pretty, but they also save from the cold weather.
14. Ankle Booties
Excellent for the fall season are the super-chic ankle booties. They are the perfect alternative to the half-legged boots, especially in the slightly hotter months.
15. Spool Heels
Spool heels are actually like a spool of thread. They have a thicker heel at the sole, that grows narrow in the middle and then becomes thicker at the base. Due to a thicker base, these heels are comfortable and secure.
16. Mules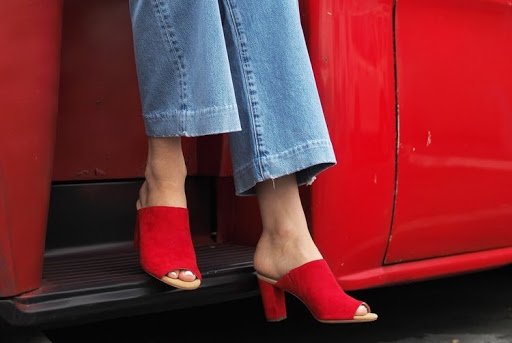 Another new type of high heels is mule heels. These heels come up high over the top of the foot. Moreover, mules can be open or closed toes. They have a chunky heel and no back support.
17. Ballroom Dance Shoes
Ballroom dance shoes are used for the exact purpose that their name suggests. These are strappy shoes with an enclosed back and an ankle strap. Due to such a structure, they provide a lot of support while dancing. Usually, the height of these heels is lower than other heels to provide a little vertical lift.
18. Cut-Out Heels
Cut-out heels are more on the funky side. These heels can be of any height and shape. Moreover, these heels have a cut-out design on the upper side.
19. Corset Heels
Corset heels resemble a mule heel or ankle booties. However, the only difference is that the two sides at the front are tied together like a traditional corset.
20. French Heels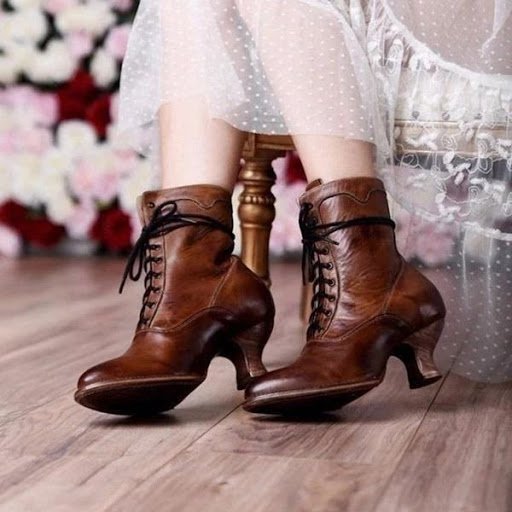 French heels are also known as Louis Heels or Pompador Heels. These heels resemble a spool heel with a French twist. Moreover, they are short in height with a curve.
21. Oxfords
Oxford heels have a traditional academy look with a flat heel. However, lately, these heels have been making a comeback to the fashion scene with a slightly higher heel than the traditional Oxford ones.
22. Chunky Heels
Chunky heels are usually those shoes that have a wider base in a square shape. These heels are one of the most stable heels because they have a slightly shorter height. Moreover, sometimes they also have a platform at the front base.
23. Comma Heels
Comma heels are exactly what a comma – the punctuation mark – looks like. These heels can either flare inward or outward. Moreover, these heels are wider at the base and narrower at the sole.
24. Espadrille Heels
A new type of high heels is Espadrille heels. These shoes have a plaited fiber sole and a fabric upper. Similarly, Espadrille heels are a rendition of these traditional flat shoes with a heel or wedge base.
25. Fantasy Heels
If all the above-mentioned heels are not enough to fulfill your wild dreams, go for fantasy heels. These heels have thousands of types, styles, and designs. Lady Gaga wears them all the time, and you can, too.
26. Little Girls High Heels
A cute type of high heels is the one little girls wear. Although there are a lot of disagreements among parents about little girls wearing high heels, we are not here to judge. We love little girls, we love high heels, and we love them together.
Conclusion
Nowadays, you can get any type of high heels in the market. There are hundreds of styles, designs, colors, and heights. So, if you want to conquer the world wearing high heels, it's high time you learn about them.