Netflix is the new cool. You either use it already, or you want to use it because all the cool people are using it. With celebrities using the hashtag #netflixandchill, Netflix certainly has come a long way since it was founded in 1997. What started as a DVD rental store in California has now become a worldwide phenomenon. According to Forbes (2020), Netflix is the world's 26th most valuable brand bringing over $21 billion in revenue. Since it has gathered so much attention, every millennial wants to use it. Unfortunately, many young people, especially students, cannot afford it. But Netflix has been rather generous in giving us the option of the Netflix free trial.
Let's see how we can get a free trial for Netflix.
Is there a Netflix free trial service?
Luckily, yes! Netflix offers its users to use their services for free for 30-days. During this trial period, users can access all the contents available on their website. Moreover, they can stream uninterrupted for an entire month. Besides, all the content available on the website is accessible to them in HD quality.
The purpose of a free trial for Netflix is that it allows the user to test the website before paying for a subscription. However, each user can have one free trial for Netflix. After the month completes, the trial will be over, and users will be charged according to the plan they chose while signing up.
How can I get a free trial for Netflix?
Getting a Netflix free trial for 30 days is no rocket science. Any user can easily benefit from a free trial if they have a working credit/debit card.
If you have a working credit/debit card, you can quickly get a 30-day free trial for Netflix. Follow the below-given steps and enjoy free streaming for a month:
Open the Netflix application or go to their website from a browser.
Put your email address in the tab that appears in the middle of the screen and click,

TRY 30 DAYS FREE.
It will take you to a new screen and ask you to create a password.
Click

CONTINUE,

and it will take you to the

Plans

screen.
Click on

SEE THE PLANS,

and it will open a new screen with all the available plans.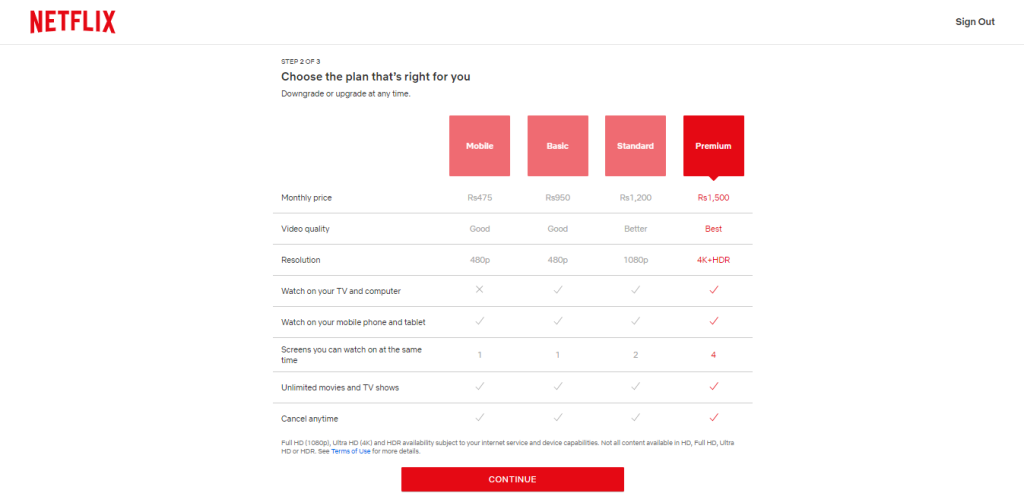 Please note that you will be shown available plans and currency units according to your location.
Choose a plan that suits you best and click

CONTINUE.

You will be taken to the Payment Details screen.

Insert your payment details and start your membership.
What happens after the 30-day free Netflix trial period?
After completing the above steps, you can easily enjoy the Netflix free trial period for 30 days. Once the 30 days complete, Netflix will start charging you according to the plan chosen at the sign-up time.
However, Netflix has a super cool feature of emailing a reminder to users 3 days before their trial expires.
Besides the email, Netflix also shows the exact date of Netflix subscription cancelation at the time of sign-up. Users must keep a screenshot of this information and put a reminder on their phones to avoid getting charged.
Note: During sign-up, you will see a little box below the email and password tabs. If you don't want to receive any promotional emails from Netflix, please check this box.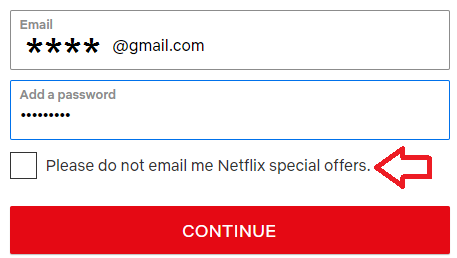 Can I get a second free trial of Netflix?
Technically, it is not possible for one user to get more than 30-days of a free trial. Netflix has a one free month per user policy.
Users sign up using one email address, and Netflix recognizes each email address as an individual user. It means that each email address gets a free month of uninterrupted streaming.
So, users have two options after their initial Netflix free trial ends:
sign up with different email addresses

switch to a paid subscription
If you want to continue using the free services, make a new email address and create a new Netflix account. Once you have done that, repeat the above steps for signing up and enjoy one month of free Netflix again.
You may also want to read: 5 Ways to Get a Free Netflix Account
Final Word
Using Netflix for free can be exciting, but it is better to pay for the services we use. So, once the initial Netflix free trial is over, users are advised to switch to a paid plan. In this way, they will be using a service legally and most ethically possible.