A pen is a very useful writing tool. It helps us in expressing our thoughts, ideas, emotions, and experiences in a readable format. In old days, people used to write with dip pens, ink brushes, and even quills which were very tedious to work with. With the advent of the modern-day fountain pen, man has found a reliable and extremely useful instrument for writing effortlessly. 
People have used many mediums for writing such as type-writers, PCs, laptops, mobile phones, and tablets but writing on paper with a smooth pen is still considered a go-to method. It gives a feeling of nostalgia when we use a pen to write instead of tapping away on our cell phones or computers.
Pen – A Basic Tool for Writing
In this modern digital world, there are so many ways to put your words in writing for the world to read. Even with all those digital mediums at our disposal pen is still in demand. Students are always in need of a pen for their work. Doctors need it for writing a prescription. Every household has a pen for making daily grocery lists, writing some information on paper while on call and so many other uses.
Pen – A Collectable Item
Along with the basic purpose of writing, pens have also been a very popular gift item. It is the best gift for fathers and students alike. It is a fantastic collectable as well. Many people collect pens as a hobby while some people only collect expensive and luxury pieces. Today we are not talking about common pens that can be bought by just anyone. We will look at the most expensive pens in the world and their unique features which make them stand out from the rest.
Top 5 Most Expensive Pens 
Since the early 19th century, the pen has been a luxury item for wealthy men. Owning an expensive pen is considered a symbol of wealth and status even till now. Rich men like to flaunt their personalized and expensive pens in front of their peers. There is a huge demand for luxury and limited edition pens. Therefore, the prices of such pieces should not come as a surprise to anyone. You will be rightly wondering what the most expensive pen in the world is.
Over the years so many expensive pens have been manufactured and sold at shocking prices. Let us have a look at our list of a few most expensive pens sold around the world in no particular order.
Aurora  – The Aurora Diamante Fountain pen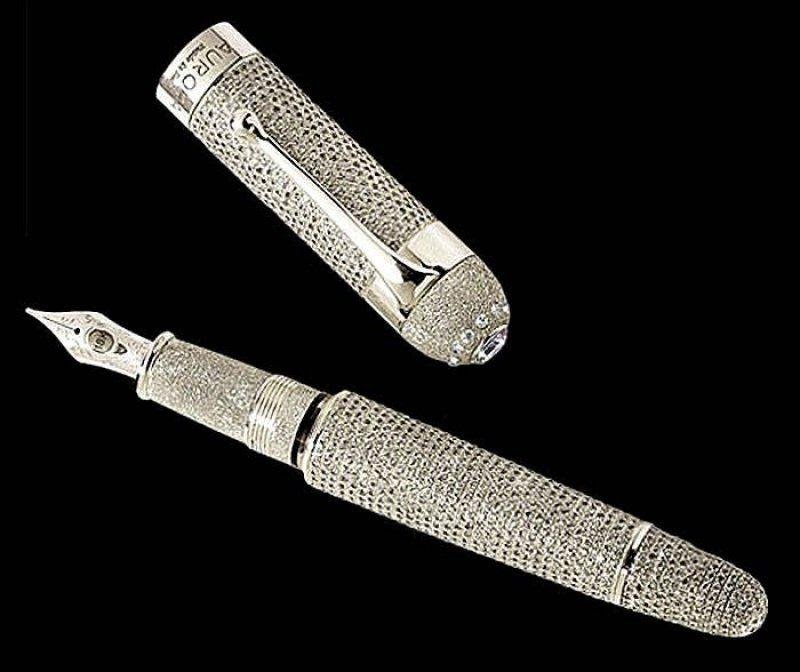 Key features of the brilliantly beautiful pen are:
Made by Italian Aurora Company established in 1919

Only 1 limited edition pen is manufactured per year

Made with pure platinum with rhodium treated nib

Flaunts two shades of 18 karat gold

Studded with 1919 30 carat diamonds from DeBeers

Personalized touch can be given through portrait, signature, or logo

Priced at 1.47 million US dollars

Caran d'Ache 1010 Diamonds Limited Edition Fountain
This is one gorgeous and most expensive fountain pen in the world. Following qualities that make it unique are:
Crafted by Swiss manufacturer Caran d'Ache

Hand-crafted in white gold

Name inspired by clock hands at 10 minutes past 10

Clock design is a tribute to the Swiss watchmaking industry

Decorated with 850 pure diamonds

Priced at 1 million US dollars

Montblanc Mystery Masterpiece
Montblanc is one of the most expensive pen brands in the world. This pen was a result of collaboration between Montblanc and jewellers Van Cleef & Arpels to celebrate the 100th anniversary of both companies. This masterpiece has the following features:
Offers three editions as per customer choice: can be decorated either in rubies, sapphires, or emeralds

Only nine pieces of the above mentioned three variations were made to date

Each variation is decorated with more than 800 diamonds

Priced at 0.73 million US dollars

Tibaldi – Fulgor Nocturnus
It is unanimously recognized as the world most expensive pen. Tibaldi is an unparalleled and exceptional quality piece that features rare black diamonds. It is an example of the true craftsmanship of renowned pen-maker Tibaldi of Florence. Its unique qualities are:
Only one pen has ever been crafted which makes it unique in every sense

Boasts 945 rare black diamonds

Also decorated with 123 beautiful rubies

Auctioned in China in the year 2010

Priced at whooping 8 million US dollars 

Heaven Gold Pen
It is the first-ever most expensive pen in the world designed by a female. Anita Mai Tan is a famous Canadian jewellery designer. What makes this pen a part of our list is the fact that it is designed specifically for females. The gemstones used are believed to be two billion years old making it the most expensive pen in the world.  The following features make it an appealing choice for the ladies:
Inspired by the unique movements of planets in the solar system

Beautiful pink gold appearance

Only 8 pieces made so far which makes it a limited edition pen

Decorated with 43 carats Tsavorite gemstones

Also adorned with 161 brilliant diamonds

Priced at 1 million US dollars
Final Words
In these modern times, we may have many digital tools and software to write our words but pens have their special spot in our lives. For many people, it is considered a style statement. They love to own, use and collect pens that suit their personality and status. Luxury brand pens are highly sought after and people are willing to pay staggering amounts to own a pen that adds value to their unique collection. 
So rest assured that pens are not going out of fashion any sooner as was feared by many!