You just received a call from your friends about an unplanned meeting. Got a dress selected and you know which shoes to wear with that dress. But a look in the mirror tells you that you need to wear something around your neck.
Yes! A Necklace!
But with your huge collection and limited time, how are you going to choose a necklace that goes impeccably with the neckline of your dress?
We know about the dilemma of choosing something perfect very well because there are so many styles of necklaces to choose from.  Therefore, we have come up with a solution!
How about we provide you the dos and don'ts when you are struggling to choose necklaces for different necklines?!
Let's get to work!
What Necklace to Wear with Different Necklines?
With countless types of necklaces for necklines, how would you know which necklace looks good on a certain neckline?
It is very simple! Start to put on different necklaces one by one on a certain neckline and see what looks good to your eyes. We know it is a very time-consuming task therefore we have listed below some popular necklines and what types of necklaces will make the necklines stand out.
We have also listed which necklaces you must avoid with certain necklines so it does not appear to be a forced look. So, why don't we go and check what kind of necklace to wear with different necklines?

A boat neckline is shaped like a boat which makes it a wide neckline that stretches from one collar bone to the other. The boat neck is quite a high neckline. 
Longer necklaces will go very well with this high and wide neckline. A long single or double row of pearls or beads necklace will give so much elegance to the boat neck. If beads are not your style then go for a long chain with a pendant.
A high necklace such as a choker is strictly a no for boat necks.
As the name suggests the V-shaped neckline is narrow and pointy like the letter V. Any symmetrical delicate necklace with a natural V shape will go well with a V-shaped neck. Just make sure that the necklace is shorter than the neckline so it doesn't go deep into the dress. 
Do not wear chokers or any other wide and bold asymmetrical necklaces as they will not complement the narrow V shape of the neckline.
There are so many different necklaces for different necklines that make the decision of what to wear so difficult. But the scoop neckline is one such neckline that gives you a lot of choice because of its versatility. You can wear a wide range of necklace styles according to the depth of the scoop.
You can wear big pendants with a small chain, statement necklaces, or multi-strand necklaces whereas avoid wearing a choker as it will leave a lot of area bare between the necklace and the neckline. 
Most of us think that we don't need to wear a necklace with collared necklines because wearing a necklace under the collar feels a little too crowded. But we think that wearing the right kind of necklace will make a huge difference and may change your perception about a no necklace policy for collars!
Wear a light choker or a small pendant that is visible above your open button. You can also wear a statement necklace under the collar if you don't mind closing all your buttons. We hope this information about collared necklines has helped in answering what necklace to wear with different necklines.
Do not wear long-chained necklaces as they will not look aesthetically good with the button line.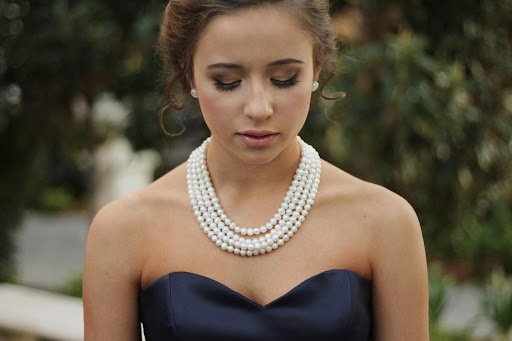 An off-shoulder or strapless neck is a very low neckline and exposes a lot of skin. A high pendant locket or a choker will complement this glamorous neckline perfectly.
Try not to wear any big and bold statement necklace with an off-shoulder neckline.

Crew neck is a rather high and round in shape neckline. Round-shaped necklaces will go perfectly with this neckline. You can easily wear a statement necklace, a bib, or even a long necklace with this unassuming neckline.
Try to avoid wearing a collar necklace as it will make your neck look shorter.
It is one of the toughest necklines to match a piece of jewellery with. Choose necklaces with pointy ends or angular finish to pair up with a square neckline.
Wearing a choker or collar necklace is not a good idea with square necklines.
Our Views on What Necklace to Wear with Different Necklines 
Follow the above suggestions when finding a necklace that complements a neckline for a perfect look. But keep in mind that it is your personality that does or does not make a piece of jewellery stand out.
Don't compromise your individual style while trying to follow a suggestion.
Wear what you are comfortable with and be confident in your unique style!