Ghastly greetings!
October is just around the corner, and that means Halloween. Halloween is the best time of the year, with all its spookiness. The kids especially wait for it to go trick or treating. But Halloween is equally popular among the college-goers. The reason? Halloween parties. With Halloween come Halloween parties, and that means college Halloween costumes. So, like every year, students need new college Halloween costume ideas to spook the kook out of their friends.
Halloween is a busy time for college students since they have a lot of parties to attend. They may need more than one costume if all of their friends are going to be at the same parties. So, it's better to plan ahead and decide at least 2-3 outfits.
College Halloween Costume Ideas

In this article, we have shared lots of college Halloween costume ideas. Whether you're going solo, or as a couple, or with your girl squad, we have got you covered.
So, Abandon All Hope, Ye Who Enter Here, and let's dig in our Halloween closets!
1. The Bloody Vampire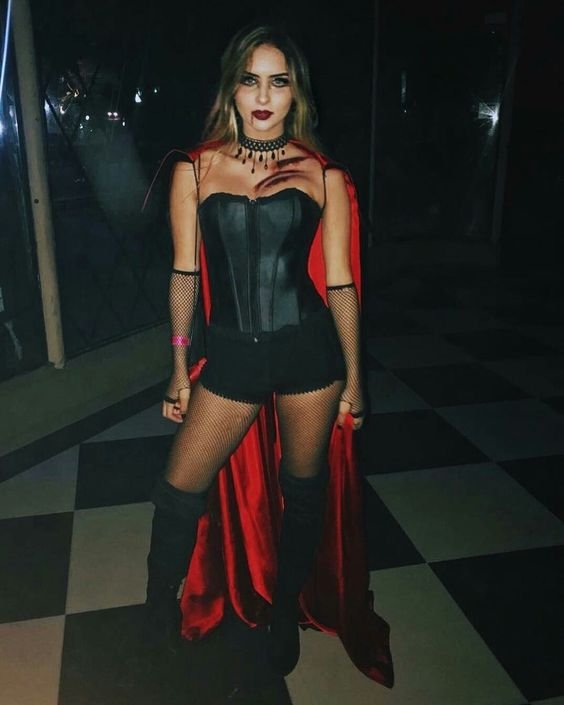 One of the most iconic looks for Halloween is the vampire or Dracula look. Of all the sexy outfit ideas for Halloween, the vampire costumes top the list. Combine a lace corset with a cape and become a perfect blend of hot and scary. And, as they say, Vampires Know How to Have a Bloody Good Time, so, just have a bloody good time.
You can take this look up a notch by using fangs, fake blood, and red contact lenses.
2.Cute Powerpuff Girls
Looking for something cute and chic for college Halloween costumes? Go as Powerpuff Girls, especially if you're going with your girl squad.
You can keep the originally innocent looks of Blossom, Bubbles, and Buttercup. Or, you can create your renditions.
3.Classic Barbie Girl
What's more perfect for a girly Halloween party than a Barbie Halloween costume? You can easily find a Barbie costume in any costume store or online. You can even DIY a costume by ironing a Barbie logo on any pink dress/top/shirt with a transfer paper.
If it's a couples' Halloween party, dress up your boyfriend as Ken, and you're all set.
4.The Cheerleading Squad
It is another one of many college Halloween costume ideas and a nostalgic throwback to your high school cheerleading days. Moreover, if you were a high school cheerleader, you already have the costume ready. But, in case you weren't a cheerleader, you can easily buy a uniform online. You can also ask around the dorm and see if anyone else has one so you can borrow.
5.Witches and Warlocks
Not Every Witch Lives in Salem; some live in college dorms, too. So, channel your inner witchiness and go as the last witch of Salem to your college Halloween party. You can ask everyone to beware of the witching hour so you can make a grand entrance just past midnight.
If you need college Halloween costumes for a couples' party, go as a witch and warlock. You can search for sexy outfit ideas for witches and warlocks and simply bewitch the entire party with your look.
6.The Devil Wears Prada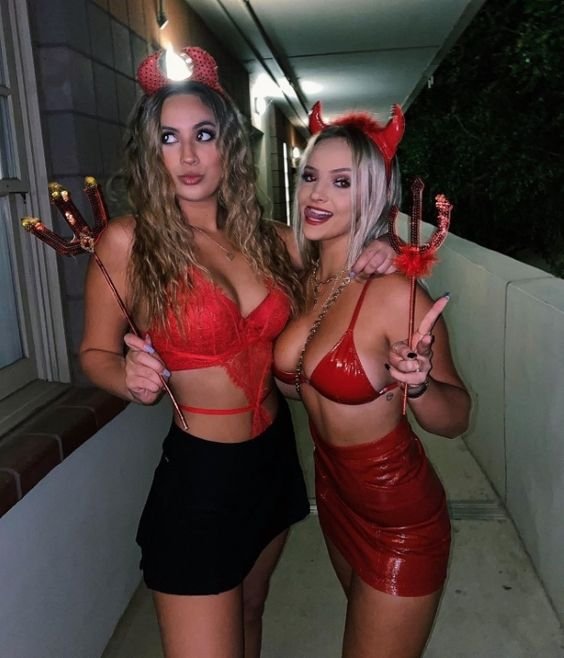 Another classic Halloween look is of the devil. Get some leather pants, black/red heels, red horns, and a fuzzy red jacket to fire up the entire look. Put the reddest of red lipsticks that you have and trap the devil in the details.
7.The Mummy Returns
If you're on a budget this Halloween, try the classic mummy look. It doesn't cost a fortune, and you can be as spooky as you like. All you need to complete the look is lots of toilet papers. It is not only the cheapest but also one of the easiest college Halloween costumes.
You can spice up the look by putting fluorescent paint on yourself to make an ordinary mummy, a glow-in-the-dark mummy.
8.Wolf it Out
Make it a Howl-oween to remember by using your makeup skills. Create the perfect wolf look with your makeup brush and a wolf costume. You can look for makeup tutorials online and create the ideal wolf look.
If you have a favorite canine companion from a TV show or a movie (like Nymeria and Ghost from the Game of Thrones), you can recreate their looks. If you plan on recreating Nymeria and Ghost, you can even go as a couple. Just get a white wolf costume and a grey and white one. Use your makeup skills to look like a wolf.
9.Slay the Clown Face
Take inspiration from IT and the Joker and recreate your ultimate clown face for a college Halloween party. Recreating a Harley Quinn look for the party is also among the classic college Halloween costume ideas. You can buy a similar wig or use temporary chalk highlighters to highlight the hair. Get a baseball bat, too.
Going to a couples' Halloween party? Ask your boyfriend to dress up as the Joker. You can be a manic couple at the party.
10.Bedsheet Ghosts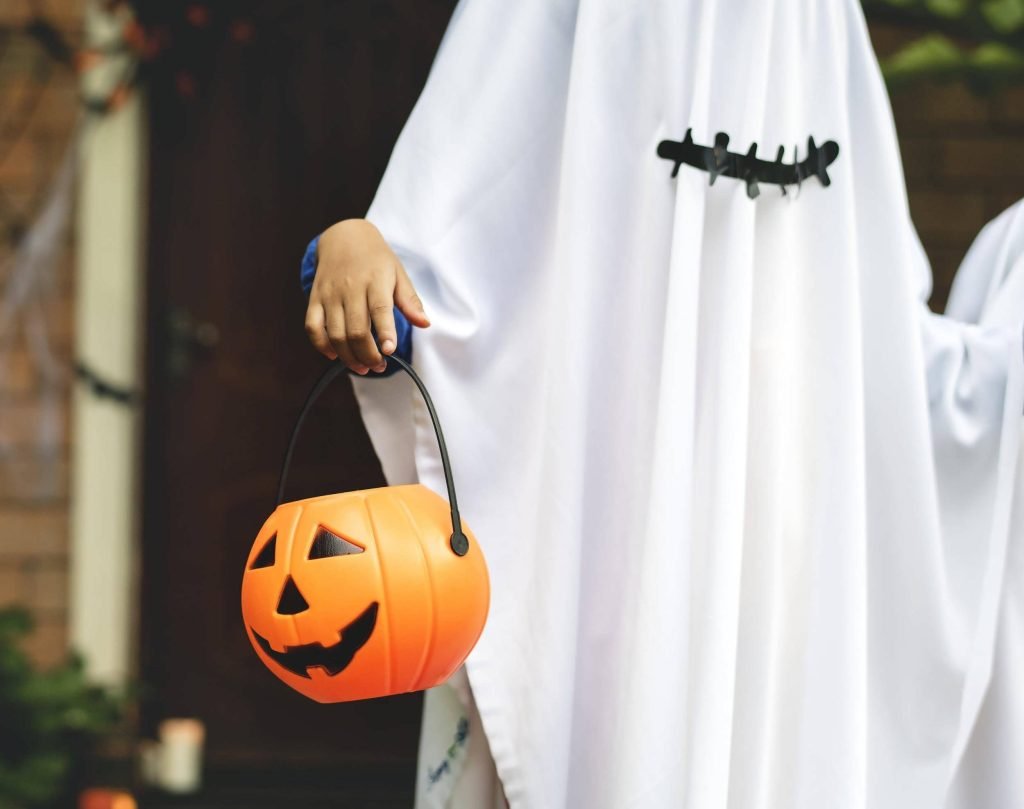 We have all seen the latest trend of Bedsheet Ghosts fired up by TikTok users. One user posted their Ghost Photoshoot pictures on the social media website, and the Netizens couldn't be happier. The trend has immediately taken off, and thousands of people have joined in by the time of writing this article.
The costume is simple, and all you need is a white sheet and black shades. Just poke holes in the sheet where your eyes are. Wear the glasses over the sheet and start throwing shade.
This trend may be new, but the classic ghost costume is centuries old (going back to the Shakespearean times). So, revive the olden spirit of this classic theme with a contemporary revamp and begin boo-ing your friends.
You might as well get some Instagram worthy pictures to join in the trending hashtag, as well.
The Bottom Line
Halloween is all about creepin' it real and having a bloody good time. It doesn't matter if you spend a lot of money on getting the perfect Halloween costume. With our budget-friendly college Halloween costume ideas, you can have a blast with your buddies. So, try one of these classic outfits this Halloween and have a spooky good time.