Celebrities all around the world have been trendsetters of the most bizarre fashions. But Hollywood celebrities have been on top of the list with their weird, crazy, and bizarre fashion choices. Remember the #PillowChallenge of 2020? Besides occasional challenges, Hollywood celebrities have made questionable choices for their red carpet outfits gazillions of times. With celebrities like Cardi B, Lady Gaga, Nicki Minaj, etc., we can never run out of questionable outfit choices that leave us with only one question…why? However, celebrities take one fashion department very seriously, and that is the tattoo department. Nowadays, every other celebrity is inked; be that Grande's dainty body art or Bieber's elaborate tattoos. So, how about discussing top celebrities with shocking tattoos?
11 Celebrities with Shocking Tattoos
Below, we have shared images and details of 11 celebrities with shocking tattoos. So, continue reading to find out which celebrity has the most shocking tattoos.
Joe Jonas
Joe Jonas is a part of the famous Jonas Brothers band and husband of Sophie Turner – the famous Sansa Stark of Game of Thrones.
Jonas has at least 20+ tattoos, but 2 of his tattoos have gathered the most attention from fans. In his latest inking episode, he got three circular designs on his forearm. Taken from the Italian artist Piero Fornasetti's famous black and white plate series Tema e Variazioni, the tattoos mean "see no evil, hear no evil, speak no evil."
While these tattoos have gathered a lot of praise from fans and his wife, Joe Jonas's most shocking tattoo is the keyhole with a woman's eye staring out. He has this tattoo on the back of his neck, and according to numerous Tumblr theorists, it is a homage to his wife as the eye resembles Turner's.
Joe Jonas's 5 Shocking Tattoos:
A Knot of Two Ropes – right forearm

"Help Me Help You" – right forearm's backside

A triangle with a hand inside it – left forearm

A Circular Phrase – left forearm

The Persistence of Memory Logo – right upper arm
Cardi B
Cardi B is one of those celebrities who never shy away from flaunting their tattoos. Although she is not heavily tattooed, she has numerous huge and colorful tattoos on her body. By now, the American rapper has reportedly 10 different tattoos on several body parts. While she has been bold in showing her tattoo off, she plays coy when it comes to revealing their meaning.
Cardi B's 5 Shocking Tattoos:
Flowers and Butterflies – parading from the top of her back to the back of her left thigh

Peacock Tattoo – extending from her right hip to her knee

Hennessy with Three Roses (ode to her younger sister) – inside of her left bicep

Loyalty Over Royalty Tattoo – inside her right bicep

Belkis (short form of her legal name Belcalis) – on her right wrist
Post Malone
What are the three best-known facts about Post Malone?
Hit Songs

Controversies

Crazy Tattoos
Austin Richard Post is professionally known as Post Malone. The American singer, songwriter, rapper, and record producer, gained popularity in 2015, and since then, he has been renowned for his excessive facial tattoos. According to some sources, he has at least 77 tattoos on his entire body.
Malone is heavily tattooed on his face, neck, and arms. Another shocking fact about his tattoos is that he inked several of them himself. According to Malone, he got most of his tattoos, such as the famous Always Tired (under both his eyes), and Stay Away (above his eyebrow), to annoy his mother. Moreover, his inspiration to get so heavily inked is Justin Bieber.
Malone has numerous tattoos of his favorite artists, such as Elvis Presley, John Lennon, Lil Peep, etc., on his hands and arms. He even has a JFK portrait on his hand.
Post Malone's 5 Shocking Tattoos:
Barbed Wire – the upper portion of his forehead

Ace of Spades Card – right side of his forehead

Grizzly Bear Face – right hand

Praying Hands With A Gun – right arm

Gun with a snake wrapped around it – left arm
Also Read: Celebrities Who Had Their Tattoos Removed
Ariana Grande
Ariana Grande is the queen of dainty body art. Although the American singer rarely speaks about or poses with her tattoos, fans have spotted numerous tiny ink spots on her body over the years. As of now, she has 49 known tattoos.
Ariana Grande's 5 Shocking Tattoos:
Eevee (Pokémon character) – left bicep

"7 Rings" – left palm (this one was an epic fail because she wanted to get it in Japanese, but the words instead of spelling 7 rings, spelled small charcoal grill)

H2GKMO (Honest To God, Knock Me Out) – right hand

Filled Heart – left-hand ring finger (she actually inked over the word Pete after breaking up with her ex-boyfriend)

Angel Wing – inner cartilage of the left ear
Kendall Jenner
Although the big sis (Kim Kardashian) doesn't approve of her getting tatted, Kendall Jenner has got herself three tiny yet rebellious tattoos on her body.
Kendall Jenner's 3 Shocking Tattoos:
Meow (a drunken mistake she calls it) – inside her lower lip

White Dot – her middle finger

White Broken Heart – her finger
Miley Cyrus
Miley Cyrus, the once Hannah Montanna from the Disney Channel, is a popular singer/songwriter. She has been hitting the headlines over the past few years due to several controversies. However, no controversy could bring her down from getting herself tattooed extensively. Right now, she has 74 known tattoos on different parts of her body.
Miley Cyrus's 5 Shocking Tattoos:
An Anchor – right wrist

A moon, fish, and a tribute to Emu (her dog) – left arm

Om, Love Never Dies, Wükong, and a cat – left arm

A skull – right ankle

Theodore Roosevelt Quote – left forearm
Harry Styles
Popular for his never-ending hit songs in One Direction and the swallows tattoo on his chest, Harry Styles has been a heartthrob of many. He is one of the 11 celebrities with shocking tattoos. Although he is known for this particular tattoo, it isn't the only one that he has. By the time of writing this article, the famous boy band star has no less than 52 tattoos.
Harry Styles's 5 Shocking Tattoos:
Naked Mermaid – left forearm

Naval Anchor – left wrist

The Ship – left bicep

Birdcage – left of the rib cage

The Swallows – chest
Cara Delevingne
The Suicide Squad actress, Cara Delevingne, is also one of those artists who flaunt their tattoos without being shy. Moreover, she has got 20 known tattoos in her ink collectibles by now.
Cara Delevingne's 5 Shocking Tattoos:
Lion Face – index finger

Bacon – sole

Made in England – sole

Don't Worry, Be Happy – under both breasts

Roman Numeral 12 – on her side
Halsey
Halsey is an American singer and songwriter famed for her famous song Eastside. Besides releasing hit albums one after the other, Halsey also gets inked one after the other. As of now, the singer has 29 known tattoos.
Halsey's 5 Shocking Tattoos:
BABY – lower abdomen to cover scars resulting from multiple endometriosis surgeries

Queen of Diamonds – temple

NIGHTMARE – upper back

BRAT – right forearm

Sheet Music – back of her left upper arm
Justin Bieber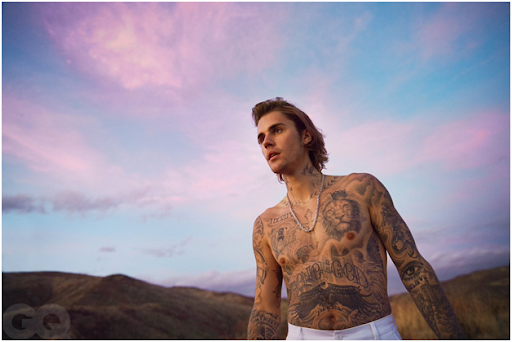 Considered the god of inking and an inspiration for many to get tatted, Justin Bieber's body is an artwork. Flaunting over 60 tattoos, the pop singer continues to grow his extensive collection of body ink.
Justin Bieber's 5 Shocking Tattoos:
Peach – neck

Bear, Lion, Cross – chest

A portrait of Selena Gomez (his ex-girlfriend) – arm

A magic 8-ball – arm

Wings – neck's backside
Angelina Jolie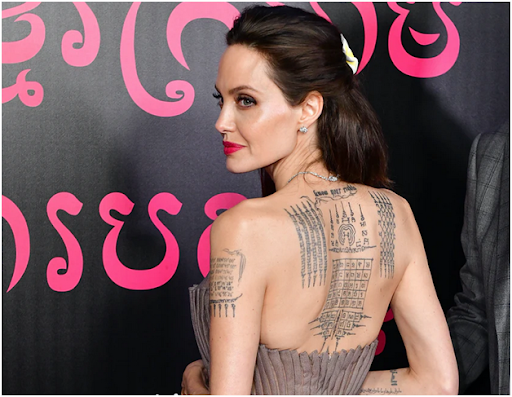 The last celebrity on our list is the queen of hearts, Angelina Jolie. She gets tattooed extensively and allegedly has at least 16 or 21 tattoos. Jolie was one of the first artists to ever walk the red carpet with her tattoos showing. Before her, it was not a norm for A-list artists to show off their tattoos.
Her most recent tattoo is an Italian quote by Galileo, which is inked on her forearm in a delicate script. The quote says, "eppur si muove" meaning "and yet it moves."
Angelina Jolie's Shocking Tattoos:
Know Your Rights – upper back

Khmer Script Tattoo – left shoulder

Quod Me Nutrit Me Destruit (meaning what nourishes me, destroys me) – below waistline

Geographical Coordinates of the birthplaces of her children – upper arm

Buddhist Yant Kraw Petch (Diamond Armour) Tattoo – right side of her back

Rumi's Verses in Persian – right forearm
Conclusion
In this article, we have discussed different celebrities with shocking tattoos. We have also shared how many tattoos each celebrity has and what are their underlying meanings. So, if you want to look at some inking inspiration, go through this article and find your favorite.