Poker was considered a men's game until Linda Johnson – The First Lady of Poker – came on the scene. After Linda hit the felt, it became a norm for female poker players to dominate the poker tables. Since then, we have seen numerous ladies steal casino nights and tournaments all around the globe.
In this article, we have shared a female poker players list comprising the richest and most professional players. One of these ladies is so rich, she can spend the rest of her life sailing the world on a luxury cruise. Impressive, right?
Top 10 Female Poker Players
Let's see which ladies took to the felt and made a name for them in the whole wide world. These ladies not only win tournaments, but they also bag a lot of money. Some of them have enough that they can fly to space at least 14 times. Mind-blowing, we know!
Now, let's get started!
When it comes to the best female poker players, there is no debate about Vanessa Selbst's status. She has dominated the world of poker for over 12 years before retiring in 2018.
Selbst won numerous prestigious tournaments on the Partouche Poker Tour. Moreover, she also won the North American Poker Tour. Apart from these winnings, she bagged three World Series of Poker bracelets in 2008, 2012, and 2014. She has a net worth of about $11,851,382.
Her top 3 biggest tournament wins are as follows:
Kathy Liebert is another famous poker player with a net worth of $6,236,222. She made her first WSOP final table in 1997, and since then, she has been a World Series of Poker regular.
Liebert bagged four separate flows of cash for more than $250,000 during the World Poker Tour. However, the highlight of her successful poker career was winning $1m first prize in the Party Poker Million in 2002.
In 2017, she finished in the top 50 of the 2017 World Series of Poker Event #19: The Giant. Moreover, she also bagged $40,181 at the $10,000 No-Limit Hold'em Main Event.
The top 3 biggest tournament wins of Liebert are as follows:
Annie Duke is one of the top female poker players in the world. She owns the title of being the only woman player ever to win the NBC National Heads-Up Poker Championship. However, she currently has been staying away from live tournaments. She attended her last live recorded tournament for the World Series of Poker WSOP Tournament of Champions in 2010. During this tournament, she secured 8th place, winning the prize money of $25,000.
Duke has taken down numerous top players during her career, including her brother Howard Lederer. She won the WSOP Tournament of Champions in 2004 for $2m.
The top three biggest tournament wins of Annie Duke are as follows:
The Norwegian national, Annette Obrestad, switched from online poker to live tournaments in 2007, where she won more than $2m at the inaugural World Series of Poker Europe.
Obrestad has won numerous poker tournaments worldwide, including the European Poker Tour and the 2010 Aussie Millions, where she won the prize money of 175,000 AUD. Besides these, she has finished the top 100 at the World Series of Poker Main Events (2010, 2012, and 2013). In 2017, she reemerged at the poker tables with a top 100 showing at the 2017 World Series of Poker $3,000 No Limit Hold'em 6-Handed Event.
Annette Obrestad's top 3 biggest tournament wins are as follows: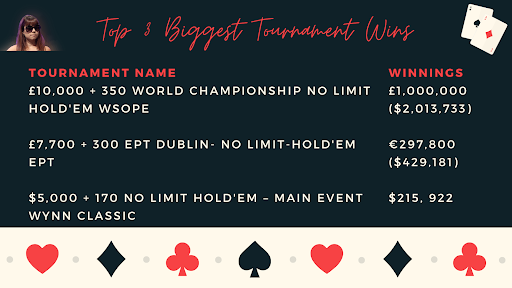 Considered one of the youngest and hot female poker players, Liv Boeree has an illustrious poker career. Also known as the Iron Maiden of the poker world, Boeree received her coaching from Phil Hellmuth on a poker reality TV show.
Boeree has a successful poker career, but she made her big breakthrough in 2010 by winning the EPT Sanmero. After that, she continued to win impressive cashes on several continents, including cashes in the World Series of Poker Main Events in Las Vegas and Cannes.
She also secured two top 20 places at WSOP in 2010 and 2012. She got her highest ranking of the season, i.e., 10th place, at the 2017 PokerStars Festival, London, in the High Roller Event.
Her top 3 big tournament wins are as follows:
Vanessa Rousso has been one of the most successful poker players in the world, boasting the status of Team PokerStars Pro. She recorded several wins in six figures during 2006, 2009, and 2011. However, she has been absent from professional games since 2013.
Rousso's most notable game was the 2009 EPT Grand Final in Monaco. She won the high roller championship with more than $700,000 against some of the biggest poker players.
She also came fifth place at the World Series of Poker Heads Up No Limit Hold'em Championship in 2010, securing $92,580 prize money.
Her top 3 biggest tournament wins are as follows:
Joanne 'JJ' Liu is one of the most famous female poker players, but she can easily fool anyone with her eccentric dress sense. Playing poker since the mid-1990s, this Taiwanese-turned-Californian player has had her results headlined by two World Poker Tour final tables.
Liu finished fourth place at the Five Diamond World Poker Classic in 2005. Moreover, she was a runner-up at the Bay 101 Shooting Stars event in 2007. She was also ranked number one on Taiwan All Time Money List in 2017.
Joanne 'JJ' Liu's top 3 biggest tournament wins are as follows:
Maria Constanza Lampropulos
Although Maria Constanza Lampropulos only joined professional poker in 2014, this is exactly where she belongs. Ever since her winnings in 2015, she has seen tremendous success.
Lampropulos came first place at the $600 No Limit Hold'em Turbo Freezeout at the LAPT in 2015. She also won the €200 + 20 No Limit Hold'em Accumulator Turbo Heat at the 2015 PartyPoker WPT.
Her biggest win was in Nottingham over 7000 other entrants, followed by her historic victory at Paradise Island. She became the first woman ever to claim the main event title.
Some of her biggest tournament wins are as follows:
The next lady on our list of professional female poker players is Maria Ho. She hit the felt 15 years ago, and her career is evidence of her talent. She was the last woman standing at the 2007 WSOP and brought home $237,865 for coming 38th.
Ho's top 3 biggest tournament wins are as follows:
Loni Harwood was trained by her father, Joe Harwood. She won 2 WSOP circuit rings in 2012. In the next year, she became the 2nd woman to make three final tables and win a bracelet at the WSOP.
Harwood's top 3 biggest tournament wins are as follows:
Net Worth of Top Female Professional Poker Players
The net worth of each female poker player mentioned in our list is as follows:
Conclusion
Female poker players have taken the world of cards and chips by storm. They have proved that women can be exceptionally great at anything and everything they put their heart in. We hope these talented women inspire you in some way to reach for the stars and fulfill your dreams.