Reading is a great thing. If you want to enhance your baby's learning and imagination, you must read to your child from an early age. The habit of reading helps children to create vast vocabulary, sharp minds, and boundless imagination right from growing age.
When you read to a child it increases their attention span along with building their listening and thinking skills. Many studies show that children, who have reading habits before preschool, tend to do better in school and learn new things quickly.
Instilling a love for books is a great gift that you can give to your child which will remain with them for the rest of their life. Try to give your child a gift of books on their special occasions and whenever you get a chance.
Baby books also make a great gift for baby showers. Newborn baby books for girls and boys are interesting to read with colorful illustrations. Book gifts are well-liked by most people so this gift can never go wrong!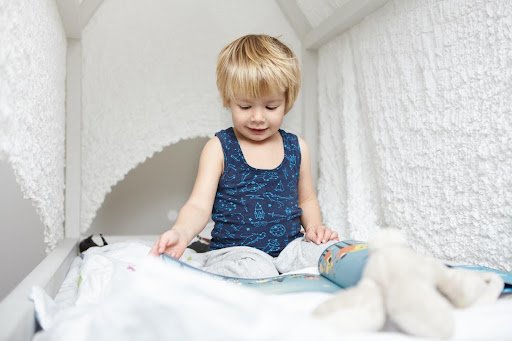 What is the best age to start reading to your child?
There is nothing as too early for reading a book to your child. Studies suggest that reading to the child from infancy strengthens the bond between parent and child.  In many cultures, mothers-to-be start reading to their babies when they are still in the womb!
Reading books to your baby is a great way to spend quality time with the child that also has added benefits. Hearing words from an early age helps develop language and literary skills in the child. Starting on reading early lays a strong foundation for a later diverse vocabulary and love for books.
How to read to your child to grab their attention?
Babies have a very short attention span. One minute they are all ears listening to you reading and the second minute they want to do something else. Reading a book to a baby requires a lot of patience and some tactics to keep the baby attentive to your reading. You can give books as a gift to your kids on their special days
Here are a few tips to make reading enjoyable for you and your baby:
Arrange a proper reading place such as a big sofa or recliner

Turn off distractions e.g. television or cellphone

Keep the book close so baby can see the pictures and illustrations

Act out the story with funny sounds and characters voices to keep the baby interested
What to look for when selecting a baby book?
While many popular baby books for girls and boys are not gender-specific as everyone can enjoy those books regardless of their gender but some books are meant specifically to be read by either boys or girls.
When selecting a baby book for a girl or a boy, look for the following specifications for an enjoyable reading experience:
Lightweight books with thick pages or board books 

Books that have rhyming text and adorable characters 

Bright colored illustrations

Should have less text and more drawings

Pop-up books  or books with textures are also a good option
What is the importance of baby books for girls?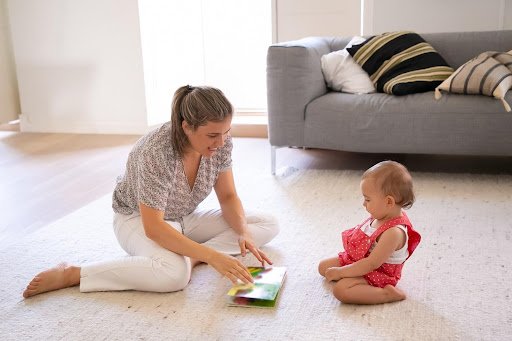 The books that we read as a child have a great impact on our thinking and eventually shape us into whom we become as we grow older. If we want to raise strong women for our next generation then we have to instill such thinking from an early age. 
There are some great baby books for girls to help them recognize their potential and inspire them to achieve great things as they grow up.
5 Best Baby Books For Girls
It was not a very easy task to pick just 5 baby books for girls from countless awesome books out there. We hope that you will find this list helpful to create the first library collection for your little girl.
Here is our pick of some interesting baby books for girls to read at bed-time
Feminist Baby by Loryn Brantz
This book features rhyming text and stars an irrepressible girl who lives as she wants without fearing anyone. This book is sure to inspire a lot of girls. Why not gift this book to a baby boy as well?! Boys too can be a feminist!
Baby Loves Aerospace Engineering by Ruth Spiro
It is a book with accurate engineering information but at the same time simple enough for babies' understanding. This book is adorned with beautiful images and teaches about birds, planes, and rockets. It is an interesting read for babies and adults alike!
Good Night Stories for Rebel Girls by Elena Favilli
Good Night Stories for Rebel Girls comprises 100 bedtime stories about 100 inspiring women from past and present. This book is aimed at girls of 6 years and above with the hopes to inspire them to be a little bit rebellious in a good way.
Mitford at the Fashion Zoo by Donald Robertson
This book is about a giraffe who has always dreamt of working in the fashion industry. it is an inspiring tale for girls to never give up and pursue their dreams until they succeed.
Goodnight Songs by Margaret Wise brown
Little girls are going to fall in love with this fabulous book. This book is a collection of charming lullabies that are going to spark the creative instincts of young girls.
Our Thoughts on Books for Baby Girls
To be honest we think that most children's books can be read by both girls and boys. Even the list we have shared is not strictly for girls as boys can also enjoy the inspiring content of these books. We just want all of the children to develop a love of reading that will be so beneficial for them as they grow up.