Discord is a popular platform for communication among young video game players. It allows users to text, video, and voice chat with their friends without any charges. As of now, it has over 100M+ downloads on android alone. Besides being used on mobile phones, Discord on Xbox is also used by thousands of users. It offers a number of fun and useful features, like channels, servers, user profiles, DMs, roles, etc. While it is generally easy to set up and use, some people still wonder how to add roles in Discord. Therefore, we have prepared this quick and easy guide to help add and delete Discord roles in a chat server.
But before learning about assigning roles, let's learn a little more about these roles.
What are Discord roles?
Generally defining, a Discord role is a user's role in a chat server granting him/her a set of particular permissions. Discord has 29 permissions that help determine a user's role in a server.
For instance, when we join a server, it assigns us with a default role of @everyone. This role gives everyone the basic permission to talk, send, and read messages.
However, in order to assign more specific roles, the Server Administrator can create different roles, such as Moderator, Guest, Officer, etc. A Moderator can mute or ban other users, and similarly, other roles have different permissions.
We can create custom roles in Discord. Moreover, one user can have multiple roles. For instance, if someone has the Moderator role as well as @everyone, he/she has all the basic permissions of @everyone combined with specific permissions of Moderator.
What are Discord permissions?
In Discord, there are a total of 31 permissions divided into 5 categories, including:
General Server Permissions

Membership Permissions

Text Channel Permissions

Voice Channel Permissions

Advanced Permissions
We have shared a list of all permissions to understand them in detail for assigning roles on Discord.
You may also want to read: How to Use Discord Quote Feature [Mobile+Desktop]
General Server Permissions
Voice Channel Permissions
Now that we know what Discord permissions are, we are ready to learn how to add roles in Discord.
How to Add Roles in Discord
Before inviting people to your server and assigning them roles, it is essential to create some primary roles. These roles can be edited, and new roles can be added at any time after inviting people.
Below is a step-by-step guide to adding new roles to your server.
Step 1
Access your Discord server after logging in. It will be on the left side vertical toolbar.
Step 2
Click on the small drop-down arrow next to your server's name and select Server Settings from the drop-down menu.
Step 3
Click on Roles in the left pane. Your roles will be set at @everyone by default.
Step 4
Click on the small + sign next to Roles for adding new roles.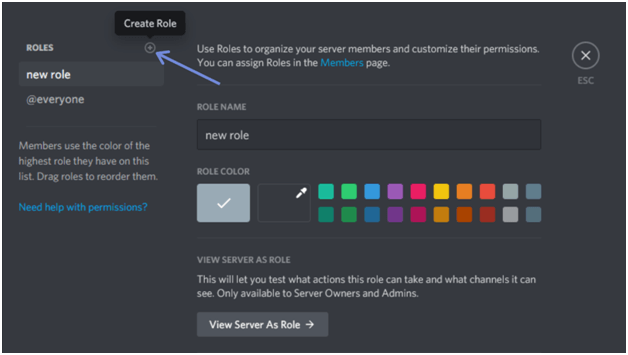 Step 5
Give a proper name to the new role and assign a color to it. Each role has a different color making it easier for users to identify other users' roles.
Step 6
Review all permissions and select the ones you want to associate with a particular role. Click Save Changes at the end of the page, and your one role is created.
Assigning Discord Roles
After creating the Roles, it's time to assign them to users on your server. It does not take long to give users their roles in Discord.
Select a user from the right-hand pane to assign a role.

Click on the small + icon under the username and select a role from the drop-down menu.

As soon as you click the role, the user's name will turn the color of that role. Moreover, their role will also appear under their username.

Conclusion
In this article, we have explained in detail how to add roles in Discord. If you are a new Discord user and want to create your own server with users and assign them roles, this guide will be beneficial for you. Roles help manage a Discord server and keep it organized, especially once a server has a relatively more significant number of users. Generally, Discord allows 250 different roles in a single server. These roles are more than enough to keep a server organized and managed.